| | | |
| --- | --- | --- |
| | Printing • Promotional Products • Advertising Specialties | |
We are an advertising specialties and promotional products business whose goal it is to promote your organization through the use of creative marketing ideas utilizing imprinted products customized with your logo or message. Our quality service and products will exceed your expectations.
We offer over 500,000 products so if you don't see an item on our site, contact us. We will meet or beat prices from any other distributor, and we will provide unprecedented customer service. For your convenience, we accept checks, Visa, MasterCard and American Express.
To place an order, get more information, or request a free catalog, Call Us Toll Free: (888) 270-7766, or e-mail us by clicking here
Products > Awards & Recognition > Canine (Dog) Awards

Gallery Collection
Canine Series


Looking for something unique? Trying to link a theme to a corporate gift or event? On the following pages you will enjoy viewing

individually crafted hand-blown figurines celebrating nature's beauty.

If you don't see it - call us and we'll create something specific to your needs and budget.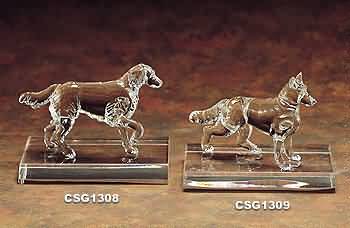 | | | |
| --- | --- | --- |
| | | |
| CSG1308 | Setter, Lrg. | 6 "L |
| CSG1309 | German Sheperd, Lrg. | 6 "L |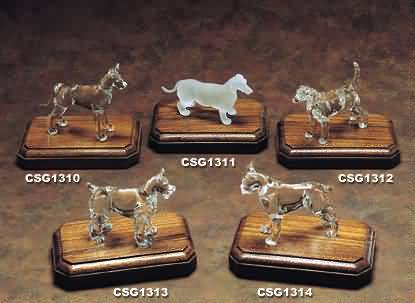 | | | |
| --- | --- | --- |
| | | |
| CSG1310 | Great Dane, Sm. | 3 1/4"L |
| CSG1311 | Doxie, Sm. | 3 1/4"L |
| CSG1312 | Dalmation, Sm. | 3 1/4"L |
| CSG1313 | Schnauzer, Sm. | 3 1/4"L |
| CSG1314 | Boxer, Sm. | 3 1/4"L |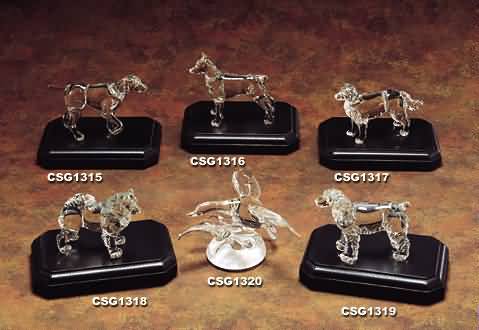 | | | |
| --- | --- | --- |
| | | |
| CSG1315 | Pointer, Sm. | 4"L |
| CSG1316 | Doberman, Sm. | 3 1/4" |
| CSG1317 | Golden Retriever, Sm. | 4 1/4" |
| CSG1318 | Chow, Sm. | 3"L |
| CSG1319 | Cocker Spaniel, Sm. | 3 1/4" L |
| CSG1320 | Flying Mallard | 3 1/4" L |
---
We will not be undersold!*

| | | |
&copy 1999 - 2012 Advertising Alternatives, LLC. All Rights Reserved.
(248) 363-8994
(888) 270-7766



The artwork, designs, and trademarks displayed on these pages are reproduced only as examples of the type and quality of decorated products available. They are not intended to represent that the products are either endorsed by, or produced for the owners of the artwork, design, or trademark.

*Some restrictions apply; call for details